Survivors of one of the refugee crisis' most deadly boat disasters have told of their despair at watching their loved ones die.
"I saw my wife and my two-month-old child die at sea, together with my brother-in-law," an asylum seeker from Ethiopia said.
"The boat was going down...down...all the people died in a matter of minutes."
"After the shipwreck we drifted at sea for a few days, without food, without anything," he said.
"I think thought I was going to die. When we were rescued we were told them that we wanted to go to Italy, but we have been brought to Greece."
He was interviewed by staff from the International Organisation for Migration (IOM) after arriving in the port of Kalamata.
The 41 survivors, from Somalia, Ethiopia, Egypt and Sudan, were eventually spotted by a Filipino cargo ship after drifting for three days.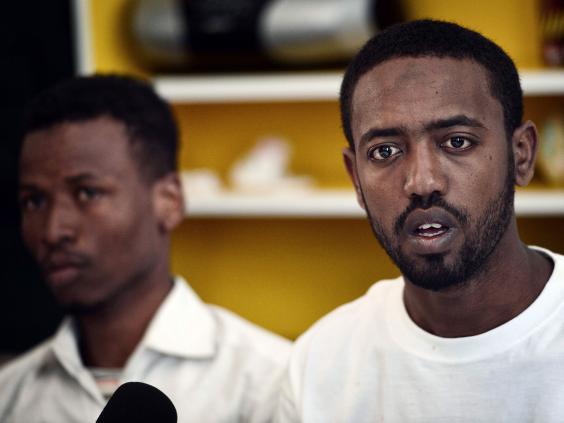 Mowlid Isman, a 28-year-old from Somalia who lost his sister and her child in the disaster, said: "We saw the dead people with our eyes."
He and another man who was rescued described how they managed to clamber onto a smaller boat but that the smuggler controlling it refused to wait for those still struggling in the sea around them.
Muaz Mahmud Aymo, a 25-year-old Ethiopian migrant who lost his wife and baby, said the smuggler brandished a knife and threatened to kill him before speeding away from refugees crying out for help.
"(The smugglers) say: 'You are gonna go to Italy. Today. Tonight. No problem. You are safe," he said. "All the people, they die on that ocean."
They had left the Libyan port of Tobruk, Libya, on several small boats to reach a larger vessel waiting off the coast.
When the refugees arrived at the wooden vessel after several hours, they found it already dangerously overcrowded but said they and around 200 others were forced to join the 300 already on board.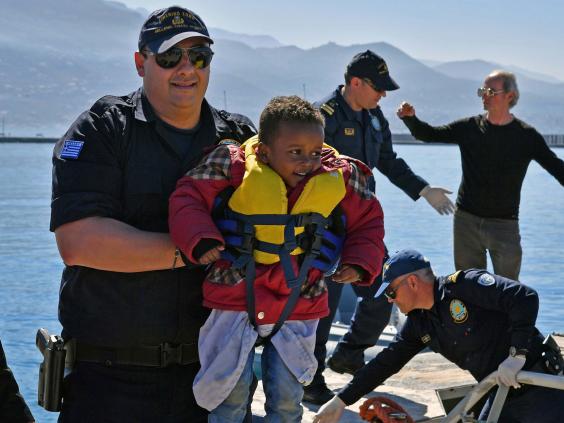 The 30 metre long boat started taking on water as the transfer continued, they told the IOM, sparking scenes of panic as it started to sink.
Survivors said they and some others made it back to a smaller boat that delivered them there but most drowned with the ship as it rocked violently from side to side and capsized.
Smugglers had charged
the desperate men, women and children between $800 (£500) and $2,000 (£1,400) for the deadly voyage.
The 37 men, three women and a three-year-old child have been fingerprinted by Greek authorities and have been given papers allowing them to stay in the country for six months.
"The testimonies we gathered are heartbreaking," said Daniel Esdras, the IOM's mission chief in Athens.
"We await further investigations by authorities to better understand what actually happened and find hopefully evidence against criminal smugglers."
The number of migrants known to have drowned in the Mediterranean so far this year is nearing 1,300, according to UNHCR figures, and campaigners fear the toll will rise as a crackdown on crossings between Greece and Turkey push refugees on to longer and more dangerous routes.
The Central Mediterranean route between North Africa and Italy has seen the bulk of disasters, with at least 380 people additionally drowning on the eastern route across the Aegean.
More than 180,000 refugees have arrived on European shores since January – a far greater number compared to the same period last year – but face ever tighter asylum restrictions and closed borders across the continent.
A spokesperson for the UNHCR called on nations to increase legal entry routes for asylum seekers, including resettlement programmes, family reunification, student and work visas and the possibility of private sponsorship.
"These will all serve to reduce the demand for people smuggling and dangerous irregular sea journeys," he added.
Angela Merkel joined European Union officials on a trip to Turkey on Saturday in a bid to bolster the troubled refugee agreement, which has seen the country promised billions of Euros and visa concessions.
Human rights groups criticised a planned trip to what they call a "sanitised" refugee camp near the Syrian border, where Turkish guards have been accused of shooting asylum seekers fleeing worsening violence.
Additional reporting by AP