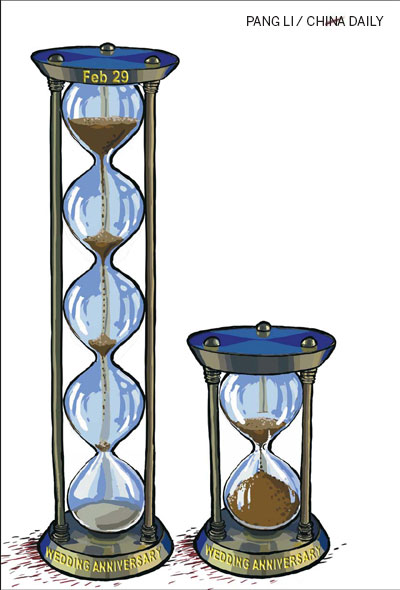 They are special people, for their birthdays only come round once every four years. Leap yearbabies were born on Feb 29, but what about those who choose to get married that day? Xu Linand Wang Kaihao report.
Hollywood iconized the year 2012 with its doomsday blockbuster of the same name, but lifegoes on for those of us in the real world, especially for those who have occasion to celebrate.
This year is a leap year, which occurs once every four years, with 29 days in February insteadof the usual 28.
"I don't treat it as any more special even though I can only celebrate my birthday once in fouryears. I have a birthday cake and a party like most other people. A rare birthday doesn't mean Ihave to celebrate it in unusual ways," says Zhu Yuqing, 24, a postgraduate at the BeijingLanguage and Culture University.
Unlike those born on a leap day who often make up for it with a special celebration when theirbirthday actually comes around, Zhu doesn't normally bother. But last year, she did somethingdifferent - she celebrated her birthday on Feb 28.
It was the year she was to graduate from her college in Nanjing, Jiangsu province, so herclassmates held a small party and sang karaoke all night to celebrate her "birthday".
"We weren't able to get together this year after graduation, so it was better to celebrate inadvance," Zhu says.
"My friends say 'happy birthday' to me these days, but only give me presents in leap years. ButI give them birthday gifts every year, so they often joke that I get the short end of the stick."
Sometimes, leap year babies get to celebrate in style, when family and friends "compensate"them for the missing years.
"I get more greetings and gifts in leap years. I don't look forward to my birthday, because ittakes such a long time to come around," Li Molin, 32, a senior manager at an Internet companyin Beijing, says.
He adds he only celebrates his birthday on leap years, and he gets birthday presents that arelarger than usual, or four presents at once. He once got a video game console.
"I usually invite no more than 10 friends, but I receive about 30 gifts as my friends want to makeup," he says. For example, he received four boxes of chocolate from one friend, and he alsogot two 50-cm tall Optimus Prime and Bumblebee Transformer models.
He's gone through cycles of reaction about his rare anniversaries. "In my childhood, I felt sadas the other kids all had birthdays, but I didn't. Then I started being proud of being distinctive.Now that I'm grown up, I think it's nothing special," Li says.
"But because of my birthday, I do have a psychological advantage in thinking I am unique andso I have to be more outstanding than others. I think I'm lucky. My academic life and career areboth going smoothly."
For Chinese leap year babies, there's another way out of that dilemma. They celebrate theirbirthdays according to the anniversaries on the lunar or Chinese calendar.
"My 4-year-old daughter has a birthday party every year, as it's our tradition to celebrate thelunar calendar birthday rather than the Gregorian date," says Zeng Yan, 31, who owns achildren's clothing store in Huzhou, Zhejiang province.
"This year is special as it's the first time she can have two birthdays and get double the numberof presents from me and her dad. My daughter goes to kindergarten, where teachers hold aspecial party for her as she's the only one born on Feb 29 there."
What about those who actually chose to get married on Feb 29 and have a weddinganniversary only once every four years?
"Despite what some of our friends think, it was significant for us to get married on Feb 29. Ichose the date as it's rare and easy to remember, " says Xu Qian, 29, who works at an ITcompany in Shanghai.
She says they got their marriage licenses on Feb 29, 2008, and had a wedding banquet on Oct2, and they celebrate on the latter date by having dinner and taking a set of photos.
"We have a thumb-drive to save all our photos. After our 2-year-old son's birth, we took photosas a family of three. I don't know my husband's plan for this year yet. It's our first anniversary,"she says.
Her husband, Zhang Xiaohua, 30, an engineer in a construction company in Shanghai, has it allplanned. "I was on a business trip but I flew back specially to spend the day with my wife,"Zhang says. "We just plan to have dinner together. I'm not a romantic guy, but I want her to feellike we are still as sweet as newlyweds." He has to fly back to work the next day.
For Jiang Mei, 40, it was the novelty of the idea. "We got married on Feb 29, 1996. The ideastruck me that it would be fun to celebrate our anniversary in a leap year," says Jiang, whoworks in a State-owned enterprise in Zhuhai, Guangdong province.
"We don't put too much importance on the day. We just have a meal, and play with our son,and we don't give each other presents. Every day can be an anniversary as long as we arehappy. As time zips past, sometimes I cannot remember how many years we've been married."
"My wife like flowers best, and I plan to give her a big gift to surprise her this year," says Jiang'shusband, Hou Chengbin, 43, who owns a company in Zhuhai. Their son, Jingsi, was born onFeb 26, 2001 so they often combine the two celebrations.
"We held a birthday party for him on Sunday, and the three of us are going to have dinnertogether on the 29th," Hou says.
"The number 229 means a lot to me, reminding me of my marriage. We even use it as part ofour account passwords," Jiang says.
You can contact the writers at xulin@chinadaily.com.cn and wangkaihao@chinadaily.com.cn.
(China Daily 02/29/2012 page18)